26th December 2008: Christmas and New Year celebrations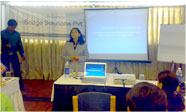 In tune with the festive mood of Christmas and New Year, the annual get together of InfoBridge on 26th December 2008 added joy to the celebrations. This was the event everyone was looking forward to, it provided the best stage to end the year with a bang!

After refreshing everyone with a quick breakfast, the event began with the Saraswati pooja and the lighting of the lamp by Kanchan Gauri. Roopa welcomed everyone with a great spirit. With a presentation on the Growth and Future plans of InfoBridge, Kanchan highlighted the importance of development through positive thinking. It was an absolute treat to hear Sangeeta singing the Christmas carol 'O Holy Night', describing the night when Christ was born. Her melodious voice rang loud and clear in the conference room. Chetan's presentation on how to reduce wireless spending, amidst a lot of technical jargon and software lingo, was very informational and interesting.


Lunch was a welcome break after the long morning and the lavish buffet spread whetted everyone's appetites. With the dining area decorated in Christmas colors, the delicious Indian cuisine added to the splash of colors with dishes like biryani, mutton rogan gosh and paneer masala for the main course and carrot halwa and the all time favorite ice cream flavors topped with chocolate sauce was the choice for dessert.

Post lunch, a discussion of all the company policies made sure that no one fell asleep after the heavy lunch. After the animated discussion of the policies, everyone viewed the videos taken at the Hyderabad trip. With comments, laughing and giggling, it was a great way of remembering the moments of happiness spent at the trip.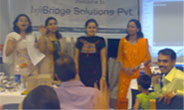 The fun activities then began with games like Dangerous Interview which had the couples guessing fun facts about each other and how well they knew each other. There was even a game where the couples had to do a task with one hand bound that required good co-ordination and teamwork. The Weight Game had everyone in splits with the weighing machine being the judge of the heaviest and lightest person and amusing gifts being given to the winners.

With the celebration of birthdays and anniversaries, the mood became more cheerful. The presentation of awards followed next. Awards for daily logs, best performance, best team etc. were given out. The Best Team award was given to the Wireless Watchdogs team and they received it to the sound of happy voices cheering them on. The awards were definitely an incentive for better performance in the next year.

With Bhushan giving the vote of thanks, the program finally came to a close later than expected but with a double dose of all the excitement, fun and enjoyment that was anticipated by everyone. A wonderful success again for Infobridge! Congratulations to all those who participated to make this event special. Even after the event had ended there was still a buzz of celebration in the air!