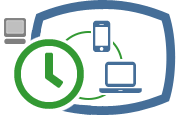 Legacy software systems are the ones which were developed few decades ago using technologies such as VB6.0, FoxPro, MainFrame, MS-Access, Classic ASP, COBOL, FORTRAN, PASCAL and so on. Such software solutions are still in use by the organization fulfilling their business needs as these are still essential to the business. For reasons such as Cost, downtime, complexity, data, it may not be feasible to upgrade or replace legacy systems therefore organizations are forced to keep them up-running as well keep fixing bugs and/ or add features.
InfoBridge expertise in Legacy software maintenance and migration. InfoBridge provides Expert assistance from highly experienced professional developers.
Click here
to get Expert Support for your Legacy software applications.

Shall Maintain or Replace a Legacy system?
We believe that in some cases it is wise to maintain and keep Legacy system up and running. There are software systems and applications developed long ago using languages like VB6.0, VBA, MsAccess, FoxPro etc and are still serving.

Decision to replace a legacy system or rewriting business logic requires a lot of thinking and brainstorming. In some situations it may not be feasible considering involved costs and rework, loss of data or production downtime, availability of right resource developers, integration etc. and sometimes with no guarantee of the end results if the Teams are not having right skills and knowledge.Integration with modern software may not work as expected or may not be feasible because of limitations. Legacy system must be maintained and looked after more regularly to avoid failure and production downtime. For complex ecosystem types of systems the risk is high in replacing a legacy system with newer latest technology as the time and cost involved in system testing and end-user training. Instead its better to have a stable platform with tried-and-tested processes with regular monitoring and maintenance being done.
The Solution - how to maintain legacy system
Maintaining a legacy system can be a big task for many organizations. As it requires huge amount of money mainly to retain the KNOWLEDGE BASE and the developers involved. Most developers prefers moving to new technologies hence finding suitable skilled developers is a challenge. Its critical to ensure that such legacy systems are properly covered for their maintenance and are managed well to keep the business data and software secure and efficiently working.

Hiring an offshore team for the support and maintenance of Legacy systems is a good idea especially to smoothen the whole process as well ensure timely backups and even plan migration as its suitable.

  Click here to get Expert Support for your Legacy software applications.
Choosing a right technology partner:
InfoBridge is unique in its own way compare to many other Software companies as InfoBridge embraces latest trends and technologies while retaining valuable knowledge, resources and infrastructure required to up-running Legacy systems and applications. InfoBridge Teams specializes in maintenance and migration of Software applications developed using Legacy Technologies mainly VB6.0, VBA, MS-ACCESS, ASP, FoxPro, COBOL and many more.

If you are looking for the offshore remote professional teams to support your legacy systems then you have reached to the right place. Experts at InfoBridge provides all the required assistance and support ensuring you get the most from your software.

Click here to get Expert Support for your Legacy software applications.