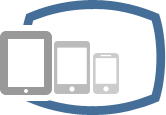 InfoBridge Solutions provides customized mobile application development services and helps clients to conceptualize, plan and roll out their mobility journey.
We develop mobile applications in cross-platform environment. Our services extend to mobile apps development for iPhone, iPad, Windows phone, BlackBerry and Android platforms. Our strength is in our team of powerhouses, which is a combination of ingenious skills and excellent programming. We take pride in fulfilling the commitments made to our customers.
With the mobile apps developed by us you can expect various features such as speed, convenience and prompt access, which generate immense popularity for your services and/or products.
IBS possesses sound technical expertise in mobile apps development for all major platforms including Java/J2ME, BlackBerry, iOS (iPhone / iPad), Android, Windows phone platform etc. Our services offer you a complete package of enhanced problem solving abilities, real time integration, dynamic UI development for mobile platform, dedicated resources, consolidation with existing information systems and exceedingly customized apps.
We hold our passion to develop top-drawer mobile apps close to our hearts; and that's why we are able to explore new horizons in mobile apps development. All applications developed by us are donned with an easy access, higher compatibility & advanced security measures across all major platforms, user friendly features, high resolution images, videos that spellbound and sounds that enhance the overall user experience. We simply need a hint of your idea and we convert your imagination into reality.