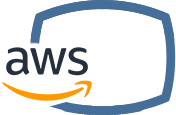 It has been observed that the AWS (Amazon Web Services) has more services and more features than any other cloud suppliers from the field of infrastructure technologies ranging from computers, storage,
and databases to the emerging technologies such as Artificial Intelligence (AI), Machine Learning (ML), Data Lake Analytics and Internet of Things (IoT). Moving the current applications to the cloud as well as building nearly anything that is possible to visualize thus making it faster, easier and more cost effective.
AWS gives functionality within the services. For instance, AWS deals with the widest range of databases that are built with a specific purpose for various types of applications so that the user can choose the appropriate tool for their job and it makes it possible to get it done within the best cost and performance parameters.
InfoBridge Solutions expertise with AWS
Experts at InfoBridge Solutions work creatively and efficiently in order to meet client satisfaction goals.
Our team of architects and software developers build applications by leveraging new skills and technologies aiming at efficient, optimized and cost effective software solutions.
InfoBridge designs and develops multi-tier web architectures using Amazon EC2 Auto Scaling, Lightsail AWS, Amazon Elastic Load Balancing (ELB), AWS Route 53, AWS Lambda, Amazon API Gateway and Amazon Elastic File System (EFS) and other AWS elements.
Contact InfoBridge Solutions for AWS architect, server migration services including integration services AWS Step Functions, Amazon MQ, SNS, SWF and SQS. Please visit InfoBridge Solutions services for other services and platforms used for the success various projects.
AWS salient features
Most secure
AWS is architecture to be the utmost flexible and protected cloud computing environment offered today.
Fastest pace of innovation
With AWS, one can leverage the newest technologies to experiment and innovate faster. One can repeatedly accelerate the pace of innovation to exclusively develop new technologies that can be used to alter the business.
AWS has matchless experience, maturity, reliability, security and performance that one can rely upon for the most important applications.
AWS Pros
Easy to Use: The AWS platform is clearly conveyed and even a beginner can use it. There won't be any difficulty for a fresh applicant as well as for an existing applicant. This happens due to the AWS Management Support and well-documented web services.
No Capacity Limits: Organizations come up with different projects and AWS supports them by providing this capacity at a minimum cost. Because of this advantage, their workload is reduced and they can focus and build different designs. The customers calculate the capacity and they pay higher prices than that, but AWS offers them the capacity at a comparatively lowcost. The moment company feels to increase the capacity, they can do it freely. Moreover, if the company realizes that there is no need of so much storage, they can get back to the previous storage and pay as per the use.
Provides Speed and Agility: In old times, it was very tedious to hire a server and it would take at least one week to do so. But, AWS delivers us within minutes. User can just select the requirement and proceed without any hurdles as it is quite easy and flexible. Also, one can quickly deploy the application. AWS offers particular tools which are beneficial in decreasing the time spent on a task. These tools include AWS Tools, Auto Scaling and Elastic Load Balancing. User can choice them based on the demand. These applications can be retrieved any time.
Secure and Reliable: Amazon allows innovating and scaling while keeping a protected environment and the users have to pay only for the services used. AWS offers an end-to-end approach while keeping the user in mind which hardens as well as secures the infrastructure. Amazon Web Services offer security at a lower cost than in an on-premises environment.
Along with offering security, AWS also helps to protect the privacy as it is stored in AWS data centers. AWS infrastructure is designed to save data irrespective of its size. AWS manages the highest standard of security and that's the reason users trust on AWS.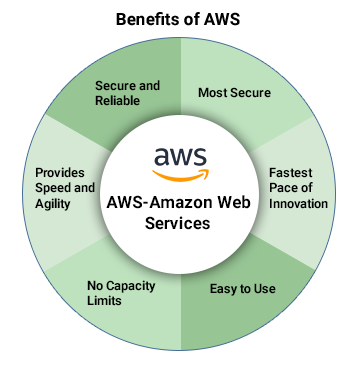 AWS Cons
Limitations of Amazon EC2: AWS sets default limits on resources which vary from area to area. These resources involve images, volumes and snapshots. One can use the limited number of instances per area. In addition to this, for the resources managed by Amazon EC2and Amazon VPC console, AWS offers a very limited information on that. However, one can demand to raise the limit.
Security Limitations: As security is one of the main types, so AWS limits some of its types which cannot be changed at all.
General Cloud Computing Issues: Couple of general cloud computing problems like downtime, limited control and backup protection are also experienced in AWS when transferring to a cloud. However, these faults can be overcome with time thus, making them short-term issues.
Technical Support Fee: Basic support at no cost is provided to all AWS accounts. But when a user signs up for any paid AWS Support plan, the user's payment method is charged a prorated amount immediately for the remainder of the current month. But, if the user cancels the subscription for AWS Support within 30 days of sign-up, the user is bound to pay the greater of the monthly minimum or a percent of the user's AWS charges for the period of time that the user is enrolled.
Reference URLs:
https://aws.amazon.com/what-is-aws/
https://data-flair.training/blogs/aws-advantages/
https://aws.amazon.com/premiumsupport/knowledge-center/support-billing/