20th September 2008: Sinhgad Trek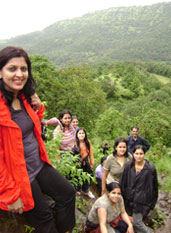 The noises of computers and those working hard on them was nowhere to be heard. Instead, the pouring rain was the defining sound. The competitiveness in the office to see who completes projects first was replaced by the race to see who reaches the top of the fort first. Getting drenched in the rain, drying ourselves after a while just to get soaked all over again was the order of the day. This is what the trip to Sinhagad fort was all about.

Everyone was excited and busy days prior to the trip: Planning, organizing and arranging for transport. We just couldn't wait for the weekend to arrive. Even though it was an early start, the enthusiastic responses were encouraging and we were soon on our way to the historical Sinhagad Fort.

Sinhagad Fort is 25 kilometers from Pune. It is a hotspot for trekkers and a favorite picnic spot. It stands 700 metres high and can be reached either by foot or by vehicle. It is also a military training base for the National Defence Academy (NDA) in Khadakwasla, Pune. The fort also houses a television tower which is instrumental in providing services to the city of Pune.

Our first stop was the Khadakwasla Lake. The beautiful lake and the dam are truly breathtaking in the rainy season with the surrounding lush greenery adding to its beauty. Here, we had fun playing a lot of games and having a good time. One of the favorites, tug of war, was played with great enthusiasm by all. We had fun, slipping and falling at times but getting back up again to help our teammates win the game.